Deciding what you want in your home, where you want it, and how you want it to look is probably one of the most important decisions you will make regarding building your custom home. The layout of the rooms and how they flow may depend on where you are in life; whether you are just starting out, you have toddlers or teenagers at home, you are "empty nesters", or you are on your way to retirement.
Here are few basic questions you may want to ask yourself to ensure you end up with "your" dream home.
Do you want, or need both a living room and family room or would just one large great room do?
Do you want, or need, both a breakfast room and a formal dining room?
How many bedrooms, full baths and half baths do you need?
Possibly a Jack-and-Jill bathroom between your children's room?
How about storage?
A space for working from home?
Single story or multistory?
A finished walk-out basement?
Perhaps you need a 3-car garage with a side entrance?
Many families who have small children prefer to have the private spaces of the house, such as bedroom and bathrooms grouped in one area of the home; while families with teenagers, young adults and those who often have guests prefer to have these rooms separated from each other. If cooking is a hobby and you entertain often, you may want a large kitchen or even the popular outdoor kitchen. If you like openness a wide foyer opening into an open floor plan living and dining room may be for you.
Single story homes, or 'Ranch' style homes offer the quietness of no overhead noise and tend to group common shared rooms, such as the great room and kitchen in the center of the home with the bedrooms and baths located on the "wings" of the house as in the DANMARK house plan shown below.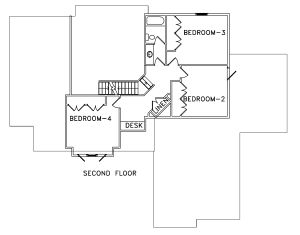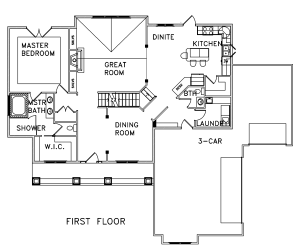 Multistory homes can give family members a little more of their own space with sleeping areas away from living areas. With so many things to consider, it's no surprise that building your custom home can be an overwhelming and exhausting process. At DANMARK Design+Construction, our experienced team will truly listen to your family's needs and wants while keeping your budget always at the forefront… to make this experience absolutely awesome!